Prof. Franco Dosio
Contract Professor
SSD: CHIM/09 - farmaceutico tecnologico applicativo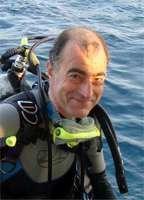 Contacts
0116706661
0112367697
v.Giuria 9 PS II
At
Department of Drug Science and Technology
Dipartimento di Scienza e Tecnologia del Farmaco
Farmacia - Chimica e tecnologia farmaceutiche
Laurea Magistrale in Medicina e Chirurgia - sede di Torino
Dottorato in Scienze Farmaceutiche e Biomolecolari
Curriculum vitae
Curriculum Vitae (32.3 KB)
Research topics
Preclinical research: delivery and targeting of anticancer drugs. Use of protein, polymeric inorganic and lipid carriers.
Preclinical research: Squalene derivatives to produce nanoparticles with therapeutical activity
Preclinical research: monoclonal antibody as delivery agent for new toxic molecules. Anticancer therapy
Preclinical researches. Cannabinoids as therapeutics for pain treatment. Endogenous proteins with antibacterial activity (lactoferrin derivatives)
Research in collaboration with industries (AAA, Amersham-GE, Bracco, RBM-Merck Serono, GIPharma) based on the implementation of quality assurance in pharmaceutical research and production.
----------------------------------------------------------------------------------------------------
Prof Patrick Couvreur Institut Galien Paris-Sud
Prof Elias Fattal Institut Galien Paris-Sud
Prof Andrea Bolognesi
Dept of Specialized Diagnostic and Experimental Medicine (University Bologna)
Prof Daniele Passarella, Dept Orgnaic Chemistry (University Milan)
Prof Antonello Barresi, DISAT (Turin Polytechnic )
Dr Natascia Bruni, Acel Pharma
Dr Rita De Santis, AlphaSigma
List and description of invited lectures
List and description of research projects
Research groups
Research projects
Activities in agenda
Academic bodies
Office hours
previo appuntamento tramite e-mail, incontro via webex o in presenza. cso Raffaello 31 2 piano