Prof. Francesco Turci
Associate Professor
SSD: CHIM/03 - chimica generale e inorganica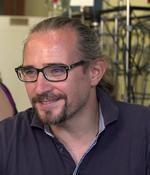 Contacts
011 670 7566 / 7577
Dipartimento di Chimica
Via P. Giuria, 7
10125 Torino, Italia
At
Department of Chemistry
Dipartimento di Chimica
Corso di Laurea in Produzioni e Gestione degli Animali in Allevamento e Selvatici
Degree Course in Veterinary Medicine
Laurea Magistrale a Ciclo Unico in Medicina Veterinaria
Laurea Magistrale in Chimica
Dottorato in Scienze Farmaceutiche e Biomolecolari
PhD in Chemical and Materials Sciences
Publications
All my research products
Selected publications
Years 2015-2021 (March)
Corazzari I , Turci F , Nistico R (2021)
TGA coupled with FTIR gas analysis to quantify the vinyl alcohol unit content in ethylene-vinyl alcohol copolymer.
https://iris.unito.it/handle/2318/1770836
Petriglieri, Jasmine R , Laporte-Magoni, Christine, Salvioli-Mariani, Emma, Ferrando, Simona, Tomatis, Maura, Fubini, Bice, Turci, Francesco (2021)
Morphological and chemical properties of fibrous antigorite from lateritic deposit of New Caledonia in view of hazard assessment.
https://iris.unito.it/handle/2318/1781834
Petriglieri J R , Bersani D , Laporte-Magoni C , Tribaudino M , Cavallo A , Salvioli-Mariani E , Turci F (2021)
Portable Raman spectrometer for in situ analysis of asbestos and fibrous minerals.
https://iris.unito.it/handle/2318/1768827
Marcelli I , Barale L , Piana F , Tallone S , Botta S , Brunamonte F , Irace A , Mosca P , Compagnoni R , Turci F (2020)
Geological mapping for executive design of civil infrastructures: Integration of GIS and AutoCAD informative systems for "gronda di Genova" highway tunnel.
https://iris.unito.it/handle/2318/1768383
Botta S , Avataneo C , Barale L , Compagnoni R , Cossio R , Marcelli I , Piana F , Tallone S , Turci F (2020)
Petrofacies for the prediction of NOA content in rocks: application to the "Gronda di Genova" tunneling project.
https://iris.unito.it/handle/2318/1768421
Leinardi R , Pavan C , Yedavally H , Tomatis M , Salvati A , Turci F (2020)
Cytotoxicity of fractured quartz on THP-1 human macrophages: role of the membranolytic activity of quartz and phagolysosome destabilization.
https://iris.unito.it/handle/2318/1767997
Casalegno V , De la Pierre des Ambrois S , Corazzari I , Turci F , Tatarko P , Damiano O , Cornillon L , Terenzi A , Natali M , Puglia D , Torre L , Ferraris M (2020)
Design, Realization, and Characterization of Advanced Adhesives for Joining Ultra-Stable C/C Based Components.
https://iris.unito.it/handle/2318/1771252
Destefanis, Enrico, Caviglia, Caterina, Bernasconi, Davide, Bicchi, Erica, Boero, Renato, Bonadiman, Costanza, Confalonieri, Giorgia, Corazzari, Ingrid, Mandrone, Giuseppe, Pastero, Linda, Pavese, Alessandro, Turci, Francesco, Wehrung, Quentin (2020)
Valorization of MSWI Bottom Ash as a Function of Particle Size Distribution, Using Steam Washing.
https://iris.unito.it/handle/2318/1762646
Pavan, Cristina, Santalucia, Rosangela, Leinardi, Riccardo, Fabbiani, Marco, Yakoub, Yousof, Uwambayinema, Francine, Ugliengo, Piero, Tomatis, Maura, Martra, Gianmario, Turci, Francesco, Lison, Dominique, Fubini, Bice (2020)
Nearly free surface silanols are the critical molecular moieties that initiate the toxicity of silica particles.
https://iris.unito.it/handle/2318/1766495
Turci, Francesco, Salvati, Anna, Leinardi, Riccardo, Pavan, Cristina, Yedavally, Harita, Tomatis, Maura (2020)
Cytotoxicity of fractured quartz on human macrophages: role of the membranolytic activity of quartz and phagolysosome destabilization.
https://iris.unito.it/handle/2318/1736470.1
Barale L , Botta S , Piana F , Tallone S , Fidelibus C , Avataneo C , Turci F , Compagnoni R , Cossio R , Alberto W (2020)
Estimation of natural asbestos content in rocks by fracture network modeling and petrographic characterization.
https://iris.unito.it/handle/2318/1768413
Kose O , Tomatis M , Leclerc L , Belblidia N -B , Hochepied J -F , Turci F , Pourchez J , Forest V (2020)
Impact of the Physicochemical Features of TiO2Nanoparticles on Their in Vitro Toxicity.
https://iris.unito.it/handle/2318/1769066
Turci, Francesco, Cossio, Roberto, Mosca, Pietro, Irace, Andrea, Marcelli, Igor, Botta, Serena, Avataneo, Chiara, Compagnoni, Roberto, Tallone, Sergio, Piana, Fabrizio, Barale, Luca (2020)
Geological Model for Naturally Occurring Asbestos Content Prediction in the Rock Excavation of a Long Tunnel (Gronda di Genova Project, NW Italy).
https://iris.unito.it/handle/2318/1732438
Turci, Francesco, Avataneo, Chiara, Botta, Serena, Marcelli, Igor, Barale, Luca, Tomatis, Maura, Cossio, Roberto, Tallone, Sergio, Piana, Fabrizio, Compagnoni, Roberto (2020)
New Tools for the Evaluation of Asbestos-Related Risk during Excavation in an NOA-Rich Geological Setting.
https://iris.unito.it/handle/2318/1732436
Scarcello E , Herpain A , Tomatis M , Turci F , Jacques P J , Lison D (2020)
Hydroxyl radicals and oxidative stress: the dark side of Fe corrosion.
https://iris.unito.it/handle/2318/1732441
Bosca F , Corazzari I , Foglietta F , Canaparo R , Durando G , Pastero L , Arpicco S , Dosio F , Zonari D , Cravotto G , Tagliapietra S , Serpe L , Turci F , Barge A (2020)
SWCNT-porphyrin nano-hybrids selectively activated by ultrasound: an interesting model for sonodynamic applications.
https://iris.unito.it/handle/2318/1742718
Petriglieri, Jasmine Rita, Laporte-Magoni, Christine, Salvioli-Mariani, Emma, Tomatis, Maura, Gazzano, Elena, Turci, Francesco, Cavallo, Alessandro, Fubini, Bice (2020)
Identification and Preliminary Toxicological Assessment of a Non-regulated Mineral Fiber: Fibrous Antigorite from New Caledonia.
https://iris.unito.it/handle/2318/1732435
Pavan C , Delle Piane M , Gullo M , Filippi F , Fubini B , Hoet P , Horwell C J , Huaux F , Lison D , Lo Giudice C , Martra G , Montfort E , Schins R , Sulpizi M , Wegner K , Wyart-Remy M , Ziemann C , Turci F (2019)
The puzzling issue of silica toxicity: Are silanols bridging the gaps between surface states and pathogenicity?
https://iris.unito.it/handle/2318/1723128
TURCI, FRANCESCO, TOMATIS, MAURA, PIANA, FABRIZIO, BARALE, LUCA (2019)
Sistema per la riduzione e il controllo dell'errore casuale e sistematico nell'immissione dei dati di input durante le misure quantitative dell'amianto al microscopio elettronico (INAMER).
https://iris.unito.it/handle/2318/1685456
Bice Fubini, Cristina Pavan, Maura Tomatis, Francesco Turci (2019)
Determinanti chimico-fisici nei meccanismi di tossicità della silice.
https://iris.unito.it/handle/2318/1768039.2
Gualtieri, Alessandro F *, Andreozzi, Giovanni B , Tomatis, Maura, Turci, Francesco (2019)
Iron from a geochemical viewpoint. Understanding toxicity/pathogenicity mechanisms in iron-bearing minerals with a special attention to mineral fibers.
https://iris.unito.it/handle/2318/1685454
Scaglione, F , Alladio, E , Damin, A , Turci, F , Baggiani, C , Giovannoli, C , Bordiga, S , Battezzati, L , Rizzi, P (2019)
Functionalized nanoporous gold as a new biosensor platform for ultra-low quantitative detection of human serum albumin.
https://iris.unito.it/handle/2318/1694719
Pacella, Alessandro*, Andreozzi, Giovanni B , Corazzari, Ingrid, Tomatis, Maura, Turci, Francesco (2018)
Surface reactivity of amphibole asbestos: A comparison between two tremolite samples with different surface area.
https://iris.unito.it/handle/2318/1685455
Berto, Silvia*, de Laurentiis, Elisa, Scapuzzi, Chiara, Chiavazza, Enrico, Corazzari, Ingrid, Turci, Francesco, Minella, Marco, Buscaino, Roberto, Daniele, Pier Giuseppe, Vione, Davide (2018)
Phototransformation of l-tryptophan and formation of humic substances in water.
https://iris.unito.it/handle/2318/1670152
Pavan, C , Turci, F , Tomatis, M , Leinardi, R , Pastero, L , Fabbiani, M , Martra, G , Fubini, B , Lison, D (2018)
Revisiting the paradigm of silica pathogenicity: silanols, not crystallinity, as key determinant.
https://iris.unito.it/handle/2318/1768031.1
Cossio, Roberto, Albonico, Carlo, Zanella, Andrea, Fraterrigo-Garofalo, Silvia, Avataneo, Chiara, Compagnoni, Roberto, Turci, Francesco (2018)
Innovative unattended SEM-EDS analysis for asbestos fiber quantification.
https://iris.unito.it/handle/2318/1685453
Turci, Francesco*, Tomatis, Maura, Pacella, Alessandro (2017)
Surface and bulk properties of mineral fibres relevant to toxicity.
https://iris.unito.it/handle/2318/1685457
Andreozzi, Giovanni B , Pacella, Alessandro, Corazzari, Ingrid, Tomatis, Maura, Turci, Francesco (2017)
Surface reactivity of amphibole asbestos: A comparison between crocidolite and tremolite.
https://iris.unito.it/handle/2318/1670150
Pavan, Cristina, Turci, Francesco, Tomatis, Maura, Ghiazza, Mara, Lison, Dominique, Fubini, Bice (2017)
Ζ potential evidences silanol heterogeneity induced by metal contaminants at the quartz surface: Implications in membrane damage.
https://iris.unito.it/handle/2318/1670153
Franzoso, Flavia, Nisticò, Roberto, Cesano, Federico, Corazzari, Ingrid, Turci, Francesco, Scarano, Domenica, Bianco Prevot, Alessandra, Magnacca, Giuliana, Carlos, Luciano, Martire, Daniel O (2017)
Biowaste-derived substances as a tool for obtaining magnet-sensitive materials for environmental applications in wastewater treatments.
https://iris.unito.it/handle/2318/1618063
Pelclova, Daniela, Zdimal, Vladimir, Kacer, Petr, Zikova, Nadezda, Komarc, Martin, Fenclova, Zdenka, Vlckova, Stepanka, Schwarz, Jaroslav, Makeš, Otakar, Syslova, Kamila, Navratil, Tomas, Turci, Francesco, Corazzari, Ingrid, Zakharov, Sergey, Bello, Dhimiter (2017)
Markers of lipid oxidative damage in the exhaled breath condensate of nano TiO2 production workers.
https://iris.unito.it/handle/2318/1634248
Ferraris, Sara, Zhang, Xin, Prenesti, Enrico, Corazzari, Ingrid, Turci, Francesco, Tomatis, Maura, Vernè, Enrica (2016)
Gallic acid grafting to a ferrimagnetic bioactive glass-ceramic.
https://iris.unito.it/handle/2318/1618209
Bosca, F , Orio, L , Tagliapietra, S , Corazzari, I , Turci, F , Martina, K , Pastero, L , Cravotto, G , Barge, A (2016)
Microwave-Assisted Synthesis and Physicochemical Characterization of Tetrafuranylporphyrin-Grafted Reduced-Graphene Oxide.
https://iris.unito.it/handle/2318/1553016
Turci, Francesco, Pavan, Cristina, Leinardi, Riccardo, Tomatis, Maura, Pastero, Linda, Garry, David, Anguissola, Sergio, Lison, Dominique, Fubini, Bice (2016)
Revisiting the paradigm of silica pathogenicity with synthetic quartz crystals: The role of crystallinity and surface disorder.
https://iris.unito.it/handle/2318/1617946
Pastero, Linda, Turci, Francesco, Leinardi, Riccardo, Pavan, Cristina, Monopoli, Marco (2016)
Synthesis of α-Quartz with Controlled Properties for the Investigation of the Molecular Determinants in Silica Toxicology.
https://iris.unito.it/handle/2318/1559512
Turci, Francesco, Favero-Longo, Sergio Enrico, Gazzano, Claudia, Tomatis, Maura, Gentile, Laura, Bergamini, Massimo (2016)
Assessment of asbestos exposure during a simulated agricultural activity in the proximity of the former asbestos mine of Balangero, Italy.
https://iris.unito.it/handle/2318/1556904
Corazzari, Ingrid, Tomatis, Maura, Turci, Francesco, Ferraris, Sara, Bertone, Elisa, Prenesti, Enrico, Vernè, Enrica (2016)
Gallic acid grafting modulates the oxidative potential of ferrimagnetic bioactive glass-ceramic SC-45.
https://iris.unito.it/handle/2318/1618365
Pavan, Cristina, Polimeni, Manuela, Tomatis, Maura, Corazzari, Ingrid, Turci, Francesco, Ghigo, Dario, Fubini, Bice (2016)
Abrasion of artificial stones as a new cause of an ancient disease. Physicochemical features and cellular responses.
https://iris.unito.it/handle/2318/1618488
Pelclova, Daniela, Zdimal, Vladimir, Kacer, Petr, Fenclova, Zdenka, Vlckova, Stepanka, Syslova, Kamila, Navratil, Tomas, Schwarz, Jaroslav, Zikova, Nadezda, Barosova, Hana, Turci, Francesco, Komarc, Martin, Pelcl, Tomas, Belacek, Jaroslav, Kukutschova, Jana, Zakharov, Sergey (2016)
Oxidative stress markers are elevated in exhaled breath condensate of workers exposed to nanoparticles during iron oxide pigment production.
https://iris.unito.it/handle/2318/1619126
Di Benedetto, Francesco, Gazzano, Elena, Tomatis, Maura, Turci, Francesco, Pardi, Luca A , Bronco, Simona, Fornaciai, Gabriele, Innocenti, Massimo, Montegrossi, Giordano, Muniz Miranda, Maurizio, Zoleo, Alfonso, Capacci, Fabio, Fubini, Bice, Ghigo, Dario, Romanelli, Maurizio (2016)
Physico-chemical properties of quartz from industrial manufacturing and its cytotoxic effects on alveolar macrophages: The case of green sand mould casting for iron production.
https://iris.unito.it/handle/2318/1618438
Pelclova, D , Zdimal, V , Fenclova, Z , Vlckova, S , Turci, F , Corazzari, I , Kacer, P , Schwarz, J , Zikova, N , Makes, O , Syslova, K , Komarc, M , Belacek, J , Navratil, T , Machajova, M , Zakharov, S (2016)
Markers of oxidative damage of nucleic acids and proteins among workers exposed to TiO2 (nano) particles.
https://iris.unito.it/handle/2318/1618458
Turci, Francesco, Corazzari, Ingrid, Alberto, Gabriele, Martra, Gianmario, Fubini, Bice (2015)
Free-radical chemistry as a means to evaluate lunar dust health hazard in view of future missions to the moon.
https://iris.unito.it/handle/2318/1560698
Viola, L , Fiorilli, S , Smeacetto, F , Lanzini, A , Paschetta, E , Portis, E , Turci, F , Leone, P (2015)
Conversion of unconventional solid biomasses in high efficiency gasification systems.
https://iris.unito.it/handle/2318/1595939
Turci, F , Compagnoni, R , Tomatis, M , Fubini, B , Piana, F , Delle Piane, L , Tallone, S , Fuoco, S , Bergamini, M (2015)
Geological and analytical procedures for the evaluation of asbestos-related risk in underground and surface rock excavation.
https://iris.unito.it/handle/2318/1560701
C Giovannoli, F Turci, P Rizzi, G Spano, L Anfossi, A Damin, S Bordiga, C Baggiani (2015)
Biosensing development on novel nanoporous functionalized gold.
https://iris.unito.it/handle/2318/1525592
Ingrid Corazzari, Roberto Nisticò, Francesco Turci, Maria Giulia Faga, Flavia Franzoso, Silvia Tabasso, Giuliana Magnacca (2015)
Advanced physico-chemical characterization of chitosan by means of TGA coupled on-line with FTIR and GCMS: Thermal degradation and water adsorption capacity.
https://iris.unito.it/handle/2318/153359
Pacella, A , Fantauzzi, M , Turci, F , Cremisini, C , Montereali, M R , Nardi, E , Atzei, D , Rossi, A , Andreozzi, G B (2015)
Surface alteration mechanism and topochemistry of iron in tremolite asbestos: A step toward understanding the potential hazard of amphibole asbestos.
https://iris.unito.it/handle/2318/1618613
A Marucco, F Catalano, I Fenoglio, F Turci, G Martra, B Fubini (2015)
Possible Chemical Source of Discrepancy between in Vitro and in Vivo Tests in Nanotoxicology Caused by Strong Adsorption of Buffer Components.
https://iris.unito.it/handle/2318/1508357
Grifasi, Francesca, Chierotti, Michele R , Garino, Claudio, Gobetto, Roberto, Priola, Emanuele, Diana, Eliano, Turci, Francesco (2015)
Solvent-free synthesis of luminescent copper(i) coordination polymers with thiourea derivatives.
https://iris.unito.it/handle/2318/1524034
Research topics
FT carries out research activities concerning the study of the physico-chemical properties of micro- and nanometric inorganic particulates, including silica, asbestos, and industrial powders, in relation to their toxicity.
Within the activities of the "G. Scansetti" Interdepartmental Center for the Study of Asbestos and other Toxic Particulates, of which he is Deputy Director since 2015, FT coordinates the characterization facilities that include micro-Raman, micro-XRF spectroscopy, TGA-FTIR-GCMS thermal analysis, and nano and micrometric dimensional analysis with DLS / ELS and optical automated image analysis (details here).
He is currently involved in the following scientific research projects:
"Surface silanols as Key Describer of the Silica Hazard - Experimental Validation", financing body: IMA - Eurosil, in collaboration with UCL, Brussels, role: PI
"Application of the Rietveld Method in the Quantitative Determination of Asbestos in Complex Matrices", funding body: ARPA Valle d'Aosta, role: PI
"SERS Biosensing with Nanoporous functionalized Gold" (BiNGo), University research projects 2014, funding body: Compagnia di San Paolo, role: WP coordinator
"Amiante et Bonnes Pratiques" competitive research project funded by the CNRT (Center Nationale de Recherche Techonologique), Nouvelle-Calédonie, France
"The streets of asbestos" MIUR Notice 6/2000 "Dissemination of Scientific Culture", role: partecipant
"Use of irrigation water contaminated by asbestos: analysis of the risk related to dispersion, migration and aerodispersion of the fibers", Reg. Piemonte, Health Projects Finalized (36529 / DB2001), role: PI
Svolge attività di ricerca che riguarda lo studio delle proprietà chimico-fisiche del particolato inorganico micro- e nanometrico, fra cui silici, amianti, e polveri industriali, in relazione alla loro tossicità, all'interno delle attività del Centro Interdipartimentale "G. Scansetti" per lo Studio dell'Amianto e altri Particolati Tossici di cui è Vice-Direttore dal 2015 (www.centroscansetti.unito.it). Per il Centro coordina la gestione dei laboratori di caratterizzazione che comprendono laboratori di spettroscopia micro-Raman, micro-XRF, analisi termica TGA-FTIR-GCMS, e analisi dimensionale di particolato nano e micrometrico DLS/ELS e "automated image analysis".
E' attualmente coinvolto nei seguenti progetti di ricerca scientifica:
"Surface silanols as Key Descriptor of the Silica Hazard - Experimental Validation", ente finanziatore: IMA - Eurosil, in colaborazione con UCL, Bruxelles, ruolo: responsabile scientifico
"Applicazione del Metodo Rietveld nella Determinazione Quantitativa dell'Amianto in Matrici Complesse", ente finanziatore: ARPA Valle d'Aosta, ruolo: responsabile scientifico
"SERS Biosensing with Nanoporous functionalized Gold" (BiNGo), Progetti di ricerca di Ateneo 2014, ente finanziatore: Compagnia di San Paolo, ruolo: coordinatore di WP
"Amiante et Bonnes Pratiques" progetto di ricerca competitivo finanziato dal CNRT (Centre Nationale de Recherche Techonologique), Nouvelle-Calédonie, France
"Le vie dell'amianto" MIUR Bando Legge 6/2000 "Diffusione della Cultura Scientifica"
"Utilizzo delle acque irrigue contaminate da amianto: analisi del rischio correlato alla dispersione, migrazione ed aerodispersione delle fibre", Reg. Piemonte, Progetti Sanità Finalizzata (36529/DB2001), ruolo: resposabile scientifico

ATTIVITA' Didattica
Docente a contratto di Chimica (SSD CHIM/03) presso il Corso Integrato di Chimica e Propedeutica Biochimica (Dip. Veterinaria, 8 CFU)
Docente presso la Scuola di Dottorato in Scienze della Natura e Tecnologie Innovative dell'Università di Torino, Dottorato di Scienze Chimiche e dei Materiali (dal 2016) e Scienze della Terra (dal 2012).
Docente del Master Universitario di I livello in "Analisi e gestione dei rischi da rifiuto contenente amianto per l'ambiente e la salute", organizzato nell'a.a. 2012/13 dall'Università del Piemonte Orientale
Docente dell'Advanced Training Program on Environmental Management and Sustainable Development organizzato dal Ministero dell'ambiente e della tutela del territorio e del mare, in collaborazione con Venice International University, Università di Torino e Beijing Municipality
Docente di Chimica Generale e Inorganica (CHIM/03) nel Corso di Laurea parallelo in Tecniche della Prevenzione nell'Ambiente e nei Luoghi di Lavoro (TPALL)
ATTIVITA' di Terza Missione
trasferimento tecnologico - responsabile di contratti di ricerca industriale
Studio volto a misurare quantitativamente e qualitativamente la potenziale pericolosità del particolato aerodisperso in ambiente di lavoro attraverso l'analisi in microscopia elettronica e la valutazione dei gas e vapori emessi da materie prime e mescole di interesse industriale, ITT Italia Srl, Barge (CN)
"Hazard of friction materials in brakes", Rockwool BV, The Nethelands
Campionamenti e riscontri analitici legati alla vertenza ANAS/Itinera", Itinera spa
AddNano per la determinazione della potenziale tossicità di nanoparticelle inorganiche per uso automotive (FP7-NMP-2008-LARGE-2, contract number 229284)
ATTIVITA' ISTITUZIONALE
Membro della Commissione Ricerca del Dip. di Chimica
Coordinatore Commissione per il Public Engagement (2019-oggi)
Membro del PE-Lab (2019-oggi)
Osservatorio alla Ricerca dell'Ateneo (2016-2019)
Referente VQR per il Dipartimento di Chimica (2014-2019)
Coordinatore della Commissione SPOKE del Dipartimento di Chimica (2015-2019)
Research groups
Research projects
Activities in agenda
Academic bodies
Office hours
Su appuntamento scrivendo a francesco.turci@unito.it